New Patients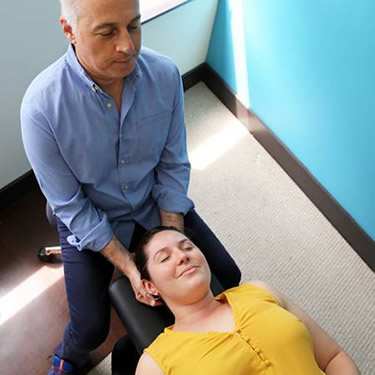 Welcome new patients! When you arrive at Diamond Chiropractic you can be sure to expect one very important feature — you will be seeing Dr. Diamond, and not any other chiropractor or health professional. Dr. Diamond takes the time to listen to his patients and will get to know you and your concerns by asking questions.
The First Visit:
Dr. Diamond values the uniqueness of every patient, their problems and their body's response to these problems. After taking your medical history, Dr. Diamond will discuss with you what brought you into the office. A deep assessment of your neuromusculoskeletal system will be performed, after which Dr. Diamond will suggest to you a treatment plan.
We recommend that you download and complete our new patient paperwork before arriving to your first visit. We also need you to leave up to 45 minutes in your schedule for your first appointment (though it may be shorter). We are prepared to treat patients in any attire, whether they are coming right from work or straight from the gym.
The Second Visit:
At this visit, Dr. Diamond will relay his findings to you, review your treatment schedule and address any questions you have pertaining to financing or insurance. He will also perform an adjustment.
How Many Visits Will It Take?
Whether you walk in here seeking relief or wellness care, our commitment to you is to listen to what you expect from us and to provide you with the fastest results possible. The number of visits suggested in your care plan will reflect this commitment.
We do believe in the value of post-symptomatic wellness care, but we also respect your choice to stop or continue chiropractic after your care plan.  How much and how long you choose to benefit from chiropractic is always up to you and how your body feels.
Dr. Diamond also enjoys sharing tips with you during your visit that will not only help you get well but stay that way. He refers to these tips and tidbits as your "chiropractic microeducation."
CONTACT US »
---
New Patients | (617) 262-2225