Ergonomic Services
Sit2stand Ergonomics Offers Comprehensive Ergonomic Services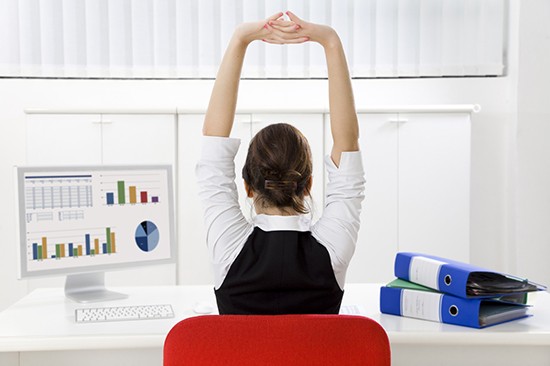 At Diamond Chiropractic, we perform workstation assessments & provide custom-tailored recommendations for improved ergonomic design in the workplace.
Here is a list of the services we perform:
Ergonomic Onsite Screening
This is a screening for 1 client every 20 minutes. The consult consists of an evaluation and recommendations offering corrective actions to decrease the risk of injury and build an environment where the employee can thrive. Education is provided onsite regarding body mechanics and correct ergonomic postures.
Full Ergonomic Assessment
This is a 1-hour on-site evaluation of the client and his/her workstation. The consultation involves taking measurements, identifying risk factors and offering corrective actions to decrease the risk of injury. Upon completion of the onsite assessment, a full report is written that includes recommendations. These ergonomic recommendations can refer to products, changes in physical workstation, and changes in work style/work habits.
Ergonomic Simple Solutions
This is an on-site ergonomic assessment of an individual's workstation. It involves everything listed above in the Full Ergonomic Assessment, except for the written report. Instead of a formal report, recommendations are given verbally onsite, along with educational handouts.
Ergonomic Phone Consultation
This service is offered for clients who need consultation advice, but, may not need an on-site assessment.
Ergonomics 101
A one hour educational program designed to increase awareness of ergonomics among employees within your organization. Attendees are trained on how to properly configure their workstations to minimize musculoskeletal risks, maximize comfort, and increase productivity.  Click here for lunch & learn overview.
Workers' Compensation, Disability and Risk Management
Identify risks & concerns, and methodically defines the best solutions to speed recovery, reduce claims severity and costs, ensure that every step is concisely documented showing what accommodations were made, demonstrating compliance with doctor's orders and how the employee was kept informed of their progress.
Schedule a Consultation
Dr. Diamond offers Ergonomic Consulting services. Contact Diamond Chiropractic to schedule time to discuss improving your workspace.
CONTACT US »
---
Ergonomic Services Boston MA | (617) 262-2225